Group shot near the end of camp
UT PREP 4
A 5-week academic enrichment program for graduates of the UT PREP 3 program
2024 Information
When: June 17th - July 25th, 2024 (Mon-Thu). No camp June 19th, July 1st - 4th.
Where: The University of Texas at Austin
Time: 8:30 a.m. - 4:30 p.m.
Cost: $2,500 - Includes materials, a t-shirt, snacks, and lunch. Scholarships are available for students who hold low-income status.
Información para 2024
Fecha: 17 de junio a 25 de julio, 2024 (lunes a jueves). No habrá campamento el 19 de junio, y del 1 al 4 de julio.
Lugar: The University of Texas at Austin
Horario: 8:30 a.m. - 4:30 p.m.
Costo: $2,500 - incluye materiales, playera, el almuerzo, y snacks. Hay becas disponibles para estudiantes que tengan estatus de bajos ingresos.
Join us on the Forty Acres!
All 2023 PREP 3 graduates should have received an email from us containing application instructions for this year. If you did not, please email us at summercamps@uteach.utexas.edu.
Overview
UT PREP 4 is a 5-week academic enrichment summer program for students who have graduated from UT PREP 3. UT PREP 4 students have the opportunity to explore concepts related to real-world engineering, computational thinking, computer programming in Scratch and object-oriented languages like Python, and technology development. 
All students receive support from an instructor, UT student interns, and other UT faculty and staff. Activities throughout camp will be hands-on and conducted in various buildings and labs throughout campus. The camp also includes a mixture of lab tours, career speakers, and college/career exploration opportunities. Every summer of UT PREP can also count as one high school CTE credit, as approved by the Texas Education Agency. 
Descripción
UT PREP 4 es un programa de enriquecimiento académico de verano con duración de 5 semanas. Este programa es para estudiantes se graduaron de UT PREP 3. Los estudiantes de UT PREP 4 tendrán la oportunidad de explorar conceptos relacionados con la ingeniería del mundo real, análisis de computación, programas de computación en Scratch y lenguas de orientación de objetos como Python y desarrollo tecnologíco. 
Cada estudiante recibe atención individual del maestro(a) y varios estudiantes pasantes de UT. Las actividades durante todo el campamento serán prácticas. El campamento también incluye una combinación de recorridos por laboratorios, platicas con profesionales y oportunidades para explorar sobre universidades y carreras. Cada verano de UT PREP puede contar como un crédito CTE de la escuela preparatoria, según lo aprobado por la Agencia de Educación de Texas.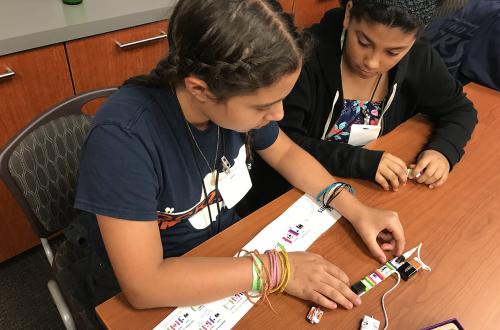 If you still have a question please email us and we will get back to you within 48 hours during office hours.
Si todavía tiene alguna pregunta, por favor envíenos un correo electrónico
Email Us/Envíenos un correo electrónico