Group shot near the end of camp
UT PREP 4
A 5-week academic enrichment program for graduates of the UT PREP 3 program
2021 Information
When: June 21st - July 29th, 2021 (Mon - Thurs). No camp July 5th - 8th. 9:00 a.m. - 4:00 p.m. 
Where: We will meet you wherever you are! All labs and classes will be led virtually via Zoom. 
Cost: $2,050 - Includes materials and a t-shirt delivered to your door. Scholarships available for students who qualify for federal free/reduced lunch.  
Información para 2021
Fecha: 21 de junio a 29 de julio, 2021 (lunes a jueves). No habrá campamento del 5 al 8 de julio. 9:00 a.m. - 4:00 p.m.
Lugar: ¡Nos encontraremos donde sea que estés! Todas las clases se llevarán a cabo virtualmente a través de Zoom. 
Costo: $2,050 - Incluye materiales y una playera entregada a su puerta. Hay becas disponibles para estudiantes que califiquen para almuerzo gratis o a precio reducido.
This year, we're going virtual!
We'll bring UT PREP to you, wherever you are. We'll even ship materials right to your door. All class and lab activities will be led via Zoom. All PREP 3 graduates should have received an email from us containing application instructions for this year. If you did not, please email us at summercamps@uteach.utexas.edu.
Overview
UT PREP 4 is a 5-week academic enrichment summer program for students who have graduated from UT PREP 3. UT PREP 4 students have the opportunity to explore concepts related to real-world engineering, computational thinking, computer programming in Scratch and object-oriented languages like Python, and technology development. 
All students receive support from an instructor, UT student interns, and other UT faculty and staff. Activities throughout camp will be hands-on and materials will be shipped to your door. The camp also includes a mixture of virtual lab tours, career speakers, and college/career exploration opportunities. Every summer of UT PREP can also count as one high school CTE credit, as approved by the Texas Education Agency. 
Application Requirements: You should have received an email from us containing application instructions for this year. If you did not, please email us at summercamps@uteach.utexas.edu. This year's application process will give more weight to the student survey than the grade report. While we hope that all students are passing (e.g. have a 70 or higher) in all classes, we don't want low grades to inhibit participation in UT PREP 2 - 4. 
Descripción
UT PREP 4 es un programa de enriquecimiento académico de verano con duración de 5 semanas. Este programa es para estudiantes se graduaron de UT PREP 3. Los estudiantes de UT PREP 4 tendrán la oportunidad de explorar conceptos relacionados con la ingeniería del mundo real, análisis de computación, programas de computación en Scratch y lenguas de orientación de objetos como Python y desarrollo tecnologíco. 
Cada estudiante recibe atención individual del maestro(a) y varios estudiantes pasantes de UT. Las actividades durante todo el campamento serán prácticas y los materiales se enviarán a su casa. El campamento también incluye una combinación de recorridos por laboratorios virtuales, platicas con profesionales y oportunidades para explorar sobre universidades y carreras. Cada verano de UT PREP puede contar como un crédito CTE de la escuela preparatoria, según lo aprobado por la Agencia de Educación de Texas.
Requisitos: Debió de recibir un correo electrónico de nosotros con instrucciones para inscribirse este año. Si no lo recibió, por favor mándenos un correo a summercamps@uteach.utexas.edu para recibir instrucciones. Este año, la encuesta estudiantil va a ser más importante que las calificaciones en el proceso de inscripción. Mientras esperamos que todos los estudiantes estén pasando sus clases (con calificaciones de 70 o mejor), no queremos que calificaciones bajas impidan su participación.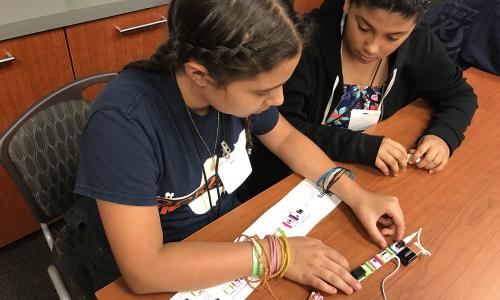 If you still have a question please email us and we will get back to you within 48 hours during office hours.
Si todavía tiene alguna pregunta, por favor envíenos un correo electrónico
Email Us/Envíenos un correo electrónico