Frequently Asked Questions/Preguntas Frecuentes
Eligibility
Are there scholarships available?

Some scholarships are available for UT PREP 1-4 and Calculus Camp. Eligibility for these scholarships is dependent on qualification for federal free/reduced lunch or, in rare cases, exhibition of extremely high financial need. There are no need-based or other scholarships available for any of our other summer camps. 
Do you accept students from Austin surrounding communities, or only from Austin?

Any student is welcome to any of our camps. Some things to keep in mind when considering our camps include: a) we do not provide housing for students attending our camps; b) there is no transportation provided for any students in any camps except for students in partner districts who attend UT PREP 1-4; and c) scholarships for students who qualify for free/reduced lunch are available to students in partner districts who attend UT PREP 1-4. Students who qualify for free/reduced lunch but who do not attend school in a partner district may be responsible for paying the $400 district contribution on their own behalf.

2021 Update: Since all programs are virtual this year, housing and transportation shouldn't be an issue. However, part c) above is still accurate for this year's program. 
We live outside of the United States. Can my student attend a UTeach Outreach Summer STEM program?

If your student has an appropriate visa status to enter the United States to attend the program, they are welcome to any of our camps. We are unable to issue immigration documents for participation in any of of our camps. We also do not provide housing for students attending our camps.
---
Logistics
Is transportation provided?

Transportation is not provided for any Early STEM Engagement or STEM Academy programs. Partner school districts may choose to provide bus transportation to students in UT PREP 1 - 4. Past partner districts who have chosen to provide transportation are Austin ISD and Del Valle ISD.

2021 Update: All programs are virtual this year.
Where do the camps take place?

All summer camps take place at The University of Texas at Austin. Off-campus field trips take place for some UT PREP camps.

2021 Update: All programs are virtual this year and will take place online via Zoom.
How long are the camps?

You may drop off your student between 7:45 and 8:00 a.m. each day. You may pick up your student between 3:45 and 4:00 p.m. each day. If your student is picked up after 4:00 p.m., there will be a $70 after-care fee each day.

2021 Update: All programs are virtual this year and will run between the hours of 9:00 a.m. and 5:00 p.m. Check each camp's website page for exact times.
Should my student bring a lunch? What about snacks?

We will provide snacks for students in all camps, but you are welcome to send more snacks with your student if you wish. We do not allow students to purchase food or drinks on campus, including from vending machines.

If your student is attending UT PREP 1-4, Physics & Math Camp, Research & Statistics Camp, or Engineering & CS Camp, they will have the option of either picking up a lunch from Austin ISD's food truck every day or bringing one from home. All other programs do not provide lunch. Please do not send any products containing nuts to camp, including peanut or any other nut butters. 

2021 Update: All virtual camps include time for a lunch break in the middle of the day.
What supplies will my student need?

We provide all camp materials for all camps. We recommend that students bring a water bottle, a cap for walking outside, and sunscreen if desired. UTeach Outreach staff will not apply sunscreen for campers.

2021 Update: Materials for virtual programs will be shipped to the address you enter in your student's application. There is no extra fee for materials. All students will need a device (preferably a laptop) that has access to the Internet and a webcam for Zoom.
Is there a dress code?

Closed-toe shoes are required for entry on any lab tours and should be worn every day. Students will do a lot of walking on campus, so these shoes should be comfortable as well. They should also bring adequate clothing to participate in recreational and athletic activities on the days those are scheduled (shorts, t-shirts, and/or swimwear and a towel). Students working in research labs, such as those in UT PREP 3 or Research & Statistics Camp, should also wear or bring long pants.

We expect our participants to dress in a manner that is appropriate for a learning environment. Students are prohibited from wearing clothing that displays offensive slogans or graphics, exposes undergarments, or is otherwise revealing. Students should refrain from wearing clothing that is unsafe for program activities or clothing that advertises products or services that are illegal or illegal for minors. If staff determine that a student is not meeting these expectations, the student will be asked to change their attire.

2021 Update: Virtual camp participants should dress comfortably for camp and follow the dress code requirements found in the second paragraph above.
---
Camp Academics
My student is very advanced/my child sometimes has difficulty with a particular subject. How do you make sure they are challenged/not left behind during the camps?

Our instructors spend time with each student to make sure that the lessons are tailored to their specific skill level. All students will grow and be challenged during their time with us. During the application process, it's important that you provide all relevant information about your student's learning needs or prior knowledge they may be bringing to camp to ensure that they are placed in the correct program. If you're not sure which program is right for your student, please don't hesitate to email us at summercamps@uteach.utexas.edu.
---
Registration
Can I submit my application without payment? Or payment without application?

You must submit your application and application fee at the same time. Your student's application will not be reviewed until we have received their online application, all required attachments, and application fee. If payment of the application fee is a financial burden for your family, please let us know by emailing us at summercamps@uteach.utexas.edu. Seats will fill in the order that applications are completed.
Can I make partial payments or pay installments?

We do not accept partial payments or installments. Registration will be closed when seats are filled.
What is your refund policy?

There are no refunds available for any camp fees paid. Exceptions are not made for students who need to drop the program or who do not pass the program. Application fees are also non-refundable.
What is the EIN for UTeach Outreach?

Our Federal Employer Identification Number is 74-6000203.
Do you recommend any other camps?

If our programs are not the right fit for your student, we recommend:

The Austin Science and Nature Center

The Lady Bird Johnson Wildflower Center
---
Elegibilidad
¿Hay becas disponibles?

Algunas becas están disponibles para UT PREP 1-4 y el campamento de Calculo. La elegibilidad para estas becas depende de calificar para el almuerzo federal gratuito, reducido, o en casos únicos, la demostración de alta necesidad financiera. No hay becas basadas en la necesidad u otras becas disponibles para ninguno de nuestros otros campamentos de verano.
¿Aceptan estudiantes de las comunidades circundantes de Austin o solo de Austin?

Cualquier estudiante es bienvenido(a) a nuestros campamentos. Algunas cosas a tener en cuenta al considerar nuestros campamentos incluyen: a) no proporcionamos alojamiento a los estudiantes que asisten a nuestros campamentos; b) no se proporciona transporte para los estudiantes en ningún campamento, excepto para los estudiantes de los distritos asociados que asisten a UT PREP 1-4; y c) las becas para estudiantes que califican para almuerzo gratis o reducido están disponibles a estudiantes en distritos asociados que asisten a UT PREP 1-4. Los estudiantes que califican para almuerzo gratis o reducido pero que no asisten a la escuela en uno de los distritos asociados pueden ser responsables de pagar la contribución del distrito de $400.

Actualización 2021: Dado que todos los programas son virtuales este año, la vivienda y el transporte no deberían ser un problema. Sin embargo, la parte c) anterior sigue siendo precisa para el programa de este año.
Vivimos fuera de los Estados Unidos. ¿Puede mi estudiante asistir a un programa de verano de STEM de UTeach Outreach?

Si su estudiante tiene un estado de visa apropiado para ingresar a los Estados Unidos para asistir al programa, es bienvenido(a) a cualquiera de nuestros campamentos. No podemos emitir documentos de inmigración para participar en ninguno de nuestros campamentos. Tampoco proporcionamos alojamiento a los estudiantes que asisten a nuestros campamentos.
---
Logística
¿Se proporciona transporte?

No se proporciona transporte para ningún programa de Early STEM Engagement o STEM Academy. Los distritos escolares asociados pueden optar por proporcionar transporte en autobús a los estudiantes en UT PREP 1-4.  Anteriormente los distritos asociados que han optado por proporcionar transporte son Austin ISD y Del Valle ISD.

Actualización 2021: Todos los programas son virtuales este año.
¿Dónde toman lugar los campamentos?

Todos los campamentos de verano se llevan a cabo en la Universidad de Texas en Austin. Se realizan excursiones fuera del campus para algunos campamentos de UT PREP.

Actualización 2021: Todos los programas son virtuales este año y se llevarán a cabo en línea a través de Zoom.
¿Cuál es el horario?

La hora de entrada es de 7:45 a.m. y las 8:00 a.m. La hora de salida es entre las 3:45 p.m. y las 4:00 p.m. Si llegan después de las 4:00 p.m., habrá un cobro de $70 por cuidado después del campamento por día.

Actualización 2021: Todos los programas son virtuales este año y tomaran lugar entre las 9:00 a.m. y las 5:00 p.m. Consulte la página oficial de cada campamento para conocer los horarios exactos.
¿Debería mi estudiante traer un almuerzo? ¿Qué pasa con los snacks?

Proporcionaremos snacks para los estudiantes en todos los campamentos, pero si lo desea, puede enviar más snacks con su estudiante. No permitimos que los estudiantes compren alimentos o bebidas en el campus, incluidas las máquinas expendedoras.

Si su estudiante asiste a UT PREP 1-4, Campamento de Física y Matemáticas, Campamento de Investigación y Estadística o Campamento de Ingeniería y Ciencias de la Computación tendrá la opción de recoger un almuerzo del camión de comida de Austin ISD todos los días o traer uno de casa. Todos los demás programas no ofrecen almuerzo. No envíe ningún producto que contenga nueces al campamento, incluido el maní o cualquier otra mantequilla de nueces.

Actualización 2021: Todos los campamentos virtuales incluyen tiempo para almorzar a la mitad del día.
¿Qué materiales necesitará mi estudiante?

Proporcionamos los materiales para todos los campamentos. Recomendamos que los estudiantes traigan una botella de agua, una gorra para caminar al aire libre y protector solar. El personal de UTeach Outreach no aplicará protector solar a los estudiantes.

Actualización 2021: Los materiales para los programas virtuales se enviarán a la dirección que ingrese en la aplicación de su estudiante. No hay costo adicional por los materiales. Todos los estudiantes necesitarán un dispositivo (preferiblemente una computadora portátil) que tenga acceso a Internet y una cámara para Zoom.
¿Existe un código de vestimenta?

Se requieren zapatos cerrados todos los días y para poder ingresar a cualquier recorrido por los laboratorios. Los estudiantes caminarán mucho por el campus y por eso mismo deben traer zapatos cómodos. También deben traer ropa adecuada para participar en actividades recreativas y deportivas los días programados (pantalones cortos, camisetas y/o traje de baño y una toalla). Los estudiantes que trabajan en laboratorios de investigación, como los de UT PREP 3 o Research & Statistics Camp, también deben usar o traer pantalones largos.

Esperamos que nuestros participantes se vistan de manera apropiada para un entorno de aprendizaje. Los estudiantes tienen prohibido usar ropa que muestre eslóganes o gráficos ofensivos, exponga la ropa interior o sea reveladora. Los estudiantes deben abstenerse de usar ropa que no sea segura para las actividades del programa o ropa que anuncie productos o servicios que sean ilegales o ilegales para menores. Si el personal determina que un estudiante no está cumpliendo con estas expectativas, se le pedirá al estudiante que se cambie de ropa.

Actualización 2021: los participantes del campamento virtual deben vestirse cómodamente para el campamento y seguir los requisitos del código de vestimenta que se encuentran en el segundo párrafo anterior.
---
Educación
Mi estudiante es muy avanzado(a) o a veces tiene dificultades con un tema en particular. ¿Cómo se asegura de que sean desafiados/no se atrase durante los campamentos?

Nuestros instructores pasan tiempo con cada estudiante para asegurarse de que las lecciones se adapten a su nivel. Todos los estudiantes crecerán y serán desafiados durante su tiempo con nosotros. Durante el proceso de inscripción, es importante que brinde toda la información relevante sobre las necesidades de aprendizaje de su estudiante o los conocimientos previos que pueda traer al campamento para asegurarse de que se coloque en el programa correcto. Si no está seguro de qué programa es el adecuado para su estudiante, no dude en enviarnos un correo electrónico a summercamps@uteach.utexas.edu.
---
Inscripción
¿Puedo enviar mi solicitud sin pago? o ¿Puedo pagar sin enviar una solicitud?

Debe enviar su solicitud y el pago al mismo tiempo. La solicitud de su estudiante no será revisada hasta que hayamos recibido su solicitud en línea, todos los documentos requeridos y el pago de la solicitud. Si por alguna razón no puede pagar la solicitud, háganoslo saber enviándonos un correo electrónico a summercamps@uteach.utexas.edu. Los lugares se llenarán en el orden en que se completen las solicitudes.
¿Puedo realizar pagos a plazos o cuotas?

No aceptamos pagos parciales ni cuotas. Las inscripciones se cerrarán cuando se llenen los lugares.
¿Cuál es su política de reembolso?

No hay reembolsos disponibles para las cuotas pagadas del campamento. No se hacen excepciones para los estudiantes que necesitan abandonar el programa o que no aprueban el programa. El costo de la solicitud tampoco es reembolsable.
¿Cuál es EIN de UTeach Outreach?

Nuestro número de identificación de empleador federal es 74-6000203.
¿Recomiendan otros campamentos?

Si nuestros programas no son los adecuados para su estudiante, le recomendamos:

The Austin Science and Nature Center

The Lady Bird Johnson Wildflower Center
---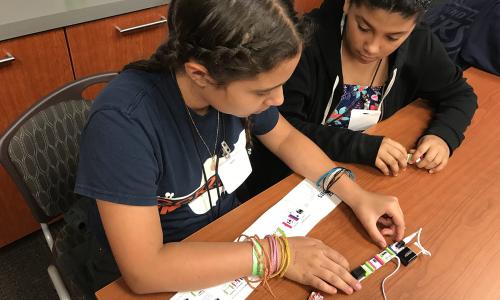 If you still have a question please email us and we will get back to you within 48 hours during office hours.
Si todavía tiene alguna pregunta, por favor envíenos un correo electrónico
Email Us/Envíenos un correo electrónico