UT PREP 3
A 5-week academic enrichment program for graduates of the UT PREP 2 program.
2024 Information
When: June 17th - July 25th, 2024 (Mon-Thu). No camp June 19th, and July 1st - 4th.
Where: The University of Texas at Austin
Time: 8:30 a.m. - 4:30 p.m.
Cost: $2,500 - Includes materials, a t-shirt, snacks, and lunch. Scholarships are available for students who hold low-income status.
Información para 2024
Fecha: 17 de junio a 25 de julio, 2024 (lunes a jueves). No habrá campamento el 19 de junio, y del 1 al 4 de julio.
Lugar: The University of Texas at Austin
Horario: 8:30 a.m. - 4:30 p.m.
Costo: $2,500 - incluye materiales, una playera, el almuerzo, y snacks. Hay becas disponibles para estudiantes que tengan estatus de bajos ingresos.
Register Now!
All 2023 PREP 2 graduates should have received an email from us containing application instructions for this year. If you did not, please email us at summercamps@uteach.utexas.edu.
Overview
UT PREP 3 is a 5-week academic enrichment summer program for students who have graduated from UT PREP 2. UT PREP 3 students have the opportunity to explore UT labs while working on their own independent inquiry. Students also take Probability, Statistics, and Technical Writing to supplement their research endeavors.
All students receive support from an instructor, UT student interns, and other UT faculty and staff. Activities throughout camp will be hands-on and conducted in various buildings and labs throughout campus. The camp also includes a mixture of lab tours, career speakers, and college/career exploration opportunities. Every summer of UT PREP can also count as one high school CTE credit, as approved by the Texas Education Agency. 
Descripción
UT PREP 3 es un programa de enriquecimiento académico de verano con duración de 5 semanas. Este programa es para estudiantes que se graduaron de UT PREP 2. Los estudiantes de UT PREP 3 tendrán la oportunidad de explorar laboratorios de UT mientras trabajan en su propia investigación independiente. Los estudiantes podrán tomar cursos en Probabilidad, Estadística, Escritura Técnica, Diseño de Proyectos de Investigación, y Exploración Universitaria y de Carreras.
Cada estudiante recibe atención individual del maestro(a) y varios estudiantes pasantes de UT. Las actividades durante todo el campamento serán prácticas. El campamento también incluye una combinación de recorridos por laboratorios, platicas con profesionales y oportunidades para explorar sobre universidades y carreras. Cada verano de UT PREP puede contar como un crédito CTE de la escuela preparatoria, según lo aprobado por la Agencia de Educación de Texas.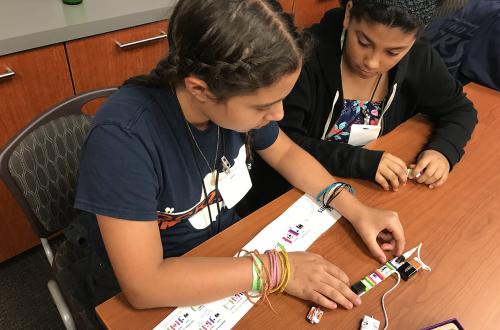 If you still have a question please email us and we will get back to you within 48 hours during office hours.
Si todavía tiene alguna pregunta, por favor envíenos un correo electrónico
Email Us/Envíenos un correo electrónico