Daja pic cropped flipped image
UTeach Outreach
UTeach Outreach is one of the largest outreach initiatives at the University of Texas at Austin. We strive to serve underrepresented populations, while inspiring students to take an active interest in STEM.
What is UTeach Outreach?
UTeach Outreach is a program housed in the College of Natural Sciences at the University of Texas at Austin. UTeach Outreach strives to inspire students to take an active interest in STEM and to make our parents and teachers better scientific educators. UTeach Outreach is a branch of UTeach, the premiere university-based secondary STEM teacher preparation program that prepares university students to become science, technology, engineering, and mathematics teachers.
UTeach Outreach began as a course that sent UT students into the community to assist teachers by engaging K-6 students with hands-on lessons. Dr. David Laude, then Associate Dean, said he was inspired to start the program while teaching environmental science lessons at his son's school. Dr. Laude said his lessons received such a positive response that he was convinced an expanded program could enrich grade school curriculum. He was particularly interested in reaching schools with underrepresented populations. 
Today, Outreach works on many projects in addition to the UTeach Outreach course including UT student-led after-school clubs, summer camps, student internships, and hands-on activities at a variety of community and university events. UTeach Outreach is one of the college's largest outreach initiatives, sending approximately 200 UT students and volunteers to teach inquiry-based lessons in Austin-area schools, mentor more than 30 after-school clubs, and lead many other efforts to engage the community in STEM and education.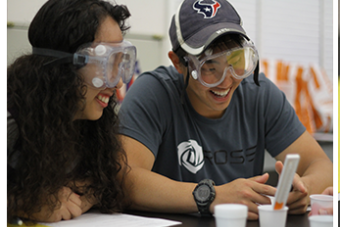 UT students from all majors earn credit by enrolling in UTeach Outreach courses where they learn to teach rigorous, engaging STEM lessons to students in grades 2-8, inspiring them to explore and understand science principles. To accommodate all students, we offer lower and upper-division courses, plus a section specifically for graduate students.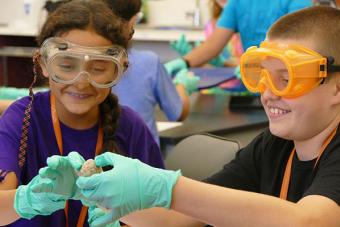 Our after-school programs inspire students in grades 3-6 to realize their talents in STEM and, hopefully, pursue STEM-based careers. These clubs extend the school day curriculum and connect students to real-world research, industry and careers. Outreach students play a vital role in delivering this opportunity to local schools.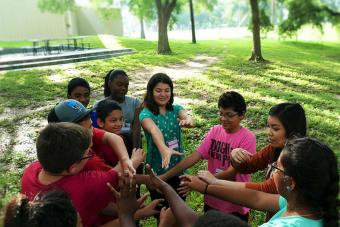 This summer program is a series of rigorous, five-week academic enrichment courses focusing on mathematics, research, engineering, physics and computer science. The program is designed to take place over four consecutive summers for students beginning in 6th or 7th grade, leading to advanced high school coursework in STEM subjects.
"UTeach Outreach is an example of science done right."    - Professor of Chemistry and Senior Vice Provost David Laude
"As a principal in Title I school, I wish more of these were available for my students."        - Dolores Godinez, Ph.D., principal