Have a desire to change the world, one future scientist, engineer, and mathematician at a time?
The UTeach Outreach course, CH207K or CH371K, is planned around your schedule and provides opportunities to boost your resume, strengthen your content, engage in leadership, and improve your communication skills.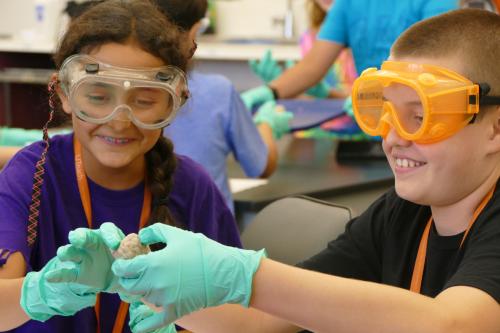 Every semester, students from all majors enroll in the UTeach Outreach course (CH207K and CH371K). Through this unique experiential and service learning course, undergraduates at UT participate in STEM-based community and partner events and learn how to present engaging STEM lessons to 2nd-8th grade students. Students who participate in our course have a variety of fieldwork opportunities to engage with their community and earn class credit.
Check with your advisor about how Outreach can fit into your degree plan and what type of credit you will receive.
CH 207K (Unique #49785) *
Register for this course when your registration access is open as you would for any other course.
*No prerequisites
CH 371K (Unique #50405)
Prerequisites:
upper-division standing (Junior/Senior)
30hrs in-residence (at UT)
currently majoring in NUR, PHR, any GEO field, any CNS field , any ENG field, or any CS field
If you do not meet these prerequisites, fill out the UTeach Outreach CH371K survey This will allow us to review your information and contact you with additional information on how we can help get you in the course!
After you are Registered
Each semester, students complete a MANDATORY, asynchronous orientation session. This orientation session provides scheduling and fieldwork assignment details. Information for how to complete an orientation session for the 2024 Spring semester is available to students on our class Canvas page. 
For more information on this, please feel free to reach out to us at outreach@uteach.utexas.edu. 
As part of the UTeach Outreach courses, a variety of fieldwork options are offered to maximize flexibility and impact. Below are some of the ways you can deliver inquiry-based lessons and participate in STEM-based community events.

Electrical Engineering and Computer Science Program
Through this initiative, we are able to help elementary and middle school students engage in electrical engineering (EE) and computer science (CS) activities and challenges. As one of our fieldwork types for the outreach courses, these lessons allow UT students to share EE and CS fundamentals that will help them as they pursue future STEM career fields.
*No prior experience or knowledge is necessary to participate - all are welcome!

After-School STEM Clubs
These clubs inspire students to pursue their interests in Science, Technology, Engineering, and Mathematics (STEM). After completing all the weekly meetings, students participate in a Mini STEM competition held at The University of Texas at Austin competing against other local clubs for trophies and bragging rights. UTeach Interns and UTeach Outreach students deliver hands-on STEM lessons to these clubs each week with the support of a teacher sponsor at each school.

Volunteer
UTeach Outreach offers many opportunities for UT students, faculty, staff and members of the community to get involved and help inspire the next generation to take an active interest in science. There are volunteer and career opportunities to fit with any schedule. Please email outreach@uteach.utexas.edu if you are interested in getting involved!

STEM Lessons
Outreach students teach hands-on science lessons to 2nd-5th graders at Title I schools throughout Austin. We write the lessons and supply the materials, you provide the instruction and inspiration!
Background Check Info
Please note: You must pass a background check to take this course. Information for how to fulfill this background check will be sent to all students registered for our course one week prior to our first orientation date. You will be denied if you meet any of the following criteria:
Prior felony conviction or deferred adjudication of a felony offense.
Prior conviction or deferred adjudication of a misdemeanor offense within the last five years involving moral turpitude (acts that are generally considered morally or ethically wrong) including but not limited to crimes that involve dishonesty, fraud, deceit, misrepresentation, deliberate violence, or offenses involving drugs or alcohol.
Felony or misdemeanor charges that are pending against the applicant involving offenses of moral turpitude or offenses involving drugs or alcohol.
Listing on Sexual Offenders database.