Physics & Math Camp
Do you believe that physics & math can change the world?
Overview
The University of Texas Physics & Math Camp is for students who will have graduated from 7th or 8th grade by Summer 2023 and are interested in ways that math and physics can change the world. In this camp, students have the opportunity to master advanced concepts in their Physics, Algebraic Structures and Advanced Mathematical Problem Solving courses while making new friends. 
All students receive support from an instructor, UT student interns, and other UT faculty and staff. Activities throughout camp will be hands-on. The camp also includes a mixture of lab tours, career speakers, and college/career exploration opportunities. This camp is NOT for high school credit. 
Application Requirements: Students will need to submit an online application, a report card, and a student survey to apply for the program. Students should have at least an 85 average in math, science, and English. Advanced coursework may average an 80 or above.   
When:
June 20th - July 27th, 2023 (Mon - Thurs). No camp from July 3rd - 6th. Time: 8:30 a.m. - 4:30 p.m.
Where:
The University of Texas at Austin
Cost:
$2,500 - Includes materials. No scholarships are available.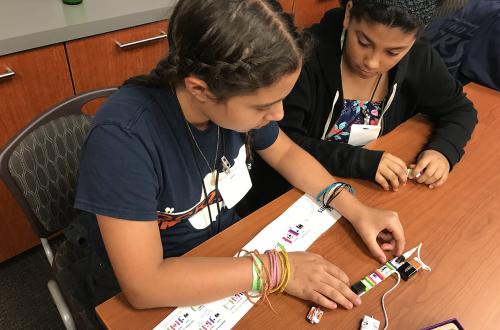 If you still have a question please email us and we will get back to you within 48 hours during office hours.
Si todavía tiene alguna pregunta, por favor envíenos un correo electrónico
Email Us/Envíenos un correo electrónico