Student at computer image
Engineering & Computer Science Camp
Interested in learning a new language?
Overview
The University of Texas Engineering & Computer Science Camp is for students who will have graduated from 9th or 10th grade by Summer 2023. In this five-week camp, students explore concepts related to real-world engineering, computational thinking, computer programming in Scratch and object-oriented languages like Python, and technology development. 
All students receive support from an instructor, UT student interns, and other UT faculty and staff. Activities throughout camp will be hands-on. The camp also includes a mixture of lab tours, career speakers, and college/career exploration opportunities. This camp is NOT for high school credit. 
Application Requirements: Students will need to submit an online application, a report card, and a student survey to apply for the program. Students should have at least an 85 average in math, science, and English. Advanced coursework may average an 80 or above.   
When:
June 20th - July 27th, 2023 (Mon - Thurs). No camp from July 3rd - 6th. Time: 8:30 a.m. - 4:30 p.m.
Where:
The University of Texas at Austin
Cost:
$2,500 - Includes materials. No scholarships available.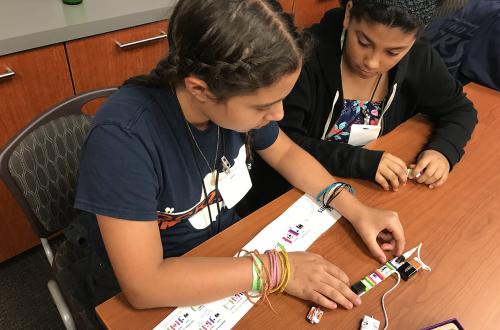 If you still have a question please email us and we will get back to you within 48 hours during office hours.
Si todavía tiene alguna pregunta, por favor envíenos un correo electrónico
Email Us/Envíenos un correo electrónico