Overview
The University of Texas Geometry Camp is for students who will have graduated from 7th, 8th, or 9th grade by Summer 2022. Students will have the opportunity to strengthen their geometry skills, either to build on what they're learning during this school year or to get ahead. Topics for 2022 will include, among others: 
Angle Relationships
Congruent Triangles
Special Right Triangles 
Quadrilaterals 
Circles 
This camp is good for students who enjoy drawing, constructing, measuring, and math! All students receive support from an instructor, UT student interns, and other UT faculty and staff. 
When: 
August 1st - August 5th, 2022 from 9:00 a.m. - 1:00 p.m. 
The University of Texas at Austin
$315 - No scholarships available.
Want a full-day camp experience? Register for the Python Camp + Geometry Camp bundle and receive a discount.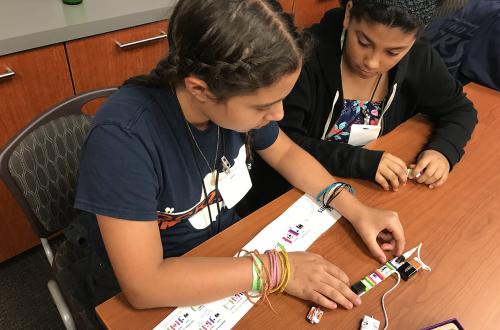 If you still have a question please email us and we will get back to you within 48 hours during office hours.
Si todavía tiene alguna pregunta, por favor envíenos un correo electrónico
Email Us/Envíenos un correo electrónico